Templeogue Tennis Club recently completed fundraising for Ukraine which was featured in the Tallaght Echo.
TEMPLEOGUE Tennis Club coach Tanya Grazhulienie spoke about the "heartbreak" of leaving her brother and father behind in Ukraine to fight as the club held a fundraising event last week in aid of Ukraine and to stand in solidarity with her.
The club held the fundraising tennis tournament on Friday evening, March 25, with proceeds going directly to help those in Ukraine and people fleeing the war. READ THE FULL ARTICLE HERE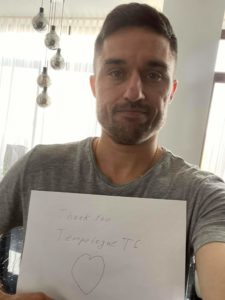 Check out the interview with retired tennis professional Alex Dolgopolov on CNN - The picture left is a special message of thanks from Alex for Templeogue Tennis Club.